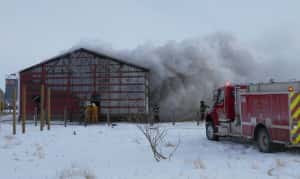 At 9:51 this morning, the Scranton and Jefferson fire departments, the Greene County Emergency Medical Services and the Greene County Sheriff's office responded to a structure fire at 1631 E Avenue on Highway 25 south of Scranton.
Deputy Kirk Hammer tells Raccoon Valley Radio that when he arrived at the scene that the building was completely engulfed in flames.  Fire crews are continuing to work on battling the blaze with additional water tankers for support and Grand Junction Fire and Rescue also came over after the initial call came in.
Hammer states that the homeowner, Craig Peterson wasn't home when the fire started.
Sheriff Steve Haupert says deputy Hammer and Chief Deputy Jack Williams managed to save about 20 head of lamb before the fire attacked a corner of the structure but that 30 head of lamb, a tractor, a pickup truck and a planter were all lost in the fire along with the entire structure is reported as a total loss.
Haupert notes that a cause hasn't been determined yet and that Alliant Energy cut the power to the structure to prevent further damage.  No one was injured in the incident.
Raccoon Valley Radio will bring you more information as it becomes official.
Additional pictures from the fire are below: