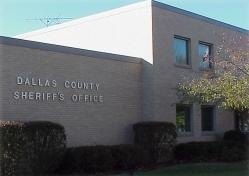 An early morning fight at the Dallas County Fairgrounds sent two people to the hospital Tuesday.
According to the Dallas County Sheriff's Office, the initial call came in at 1:04am reporting that two male subjects were in a physical fight and the suspect may also be armed with a gun.  Authorities later determined there was no gun involved at all.
Upon arrival, deputies found 43 year-old Richard Daniel Edmunds of West Branch, Iowa with two stab wounds in his back.  The alleged suspect, 43 year-old Paul Joesph Boruch of South Bend, Indiana was located on the other side of the fairgrounds and taken into custody without incident.
Edmunds was transported to Mercy Hospital where he underwent surgery to have the knife removed from his back.  Though the extent of his injuries is not known at this time, officials believe his injuries are not live threatening.
Boruch was also transported to Mercy Hospital to be treated for unknown injuries.
According to the Sheriff's Office call log, the initial report stated that Edmunds hit Boruch with a pipe before being stabbed several times.
The Dallas County Sheriff's Office continues to investigate the case but believe this was an isolated incident between two carnival employees and alcohol may have played a part in the fight.
The 2014 Dallas County Fair is scheduled to start Wednesday and authorities say this incident will have no effect on the plans for the fair.
The Adel Police Department, Waukee Police, Iowa State Patrol, Dallas County EMS and Adel Fire Department also assisted at the scene.
Raccoon Valley Radio will bring you more information as it becomes official.