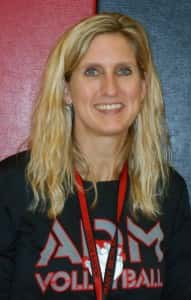 Adel-DeSoto-Minburn volleyball head coach Mary Beth Scott is looking to her six returning letterwinners to help lead this year's squad.
Having lost their senior setter from last year in Haley Schepers, Scott talks about how she has reconfigured their offense.
"Last year, I ran a 5-1 (rotation) and I shared one setter and so this year our goal is to go back to a true 6-2 (rotation) where we're going to split our setters up."
Taking over the majority of the setting responsibilities are senior Marissa Felt and junior Brennan Hook.  Replacing two outside hitters in Allison Gottschalk and Torrie Hook will be seniors Karina Dufoe and Maddie Mikkelsen who only played back row last year and Dufoe played primarily as a middle hitter.
Another senior Kenzi Sutton says she's ready to start their season coming off of a Raccoon River Conference championship.
"I'm just excited to get started playing when I mean we've had practices for about two weeks now and I'm just ready to start playing."
The Tigers will have their first taste of the 2014 season when they travel to Newton for a tournament tomorrow night.