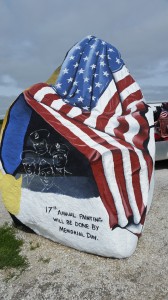 As we've reported, Greenfield artist Bubba Sorensen has announced a plan to launch the 50 State Freedom Rock Tour.
Sorensen tells Raccoon Valley Radio his mission of getting a Freedom Rock painted in each of Iowa's 99 counties is happening so quickly that he's almost ready to launch the nationwide tour, which is something he has always wanted to do. "The deal with the Iowa tour is that we're kind of booked out. I have only ten counties left to book, so basically the whole state is on board at this point and I'm only in my fourth year. When I first started, I thought the whole state would take about ten years to complete but now it is looking like it will be only seven or eight years. That's another reason why I have announced the 50 state tour."
Sorensen will tell us more about his plan today on Let's Talk Guthrie County. It airs during the 9 a.m., noon and 5 p.m. hours on K107.9 and www.raccoonvalleyradio.com.