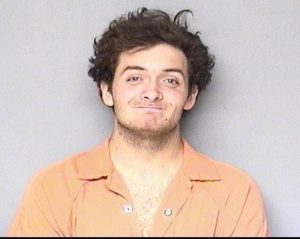 A Redfield man was arrested Tuesday afternoon following a motorcycle chase with Dallas County Sheriff's Deputies.
Nineteen-year-old Chase Brian Knowles was taken into custody following the pursuit on several charges. According to the Sheriff's Office, at around 2:43 p.m. dispatch received a call advising a man on a motorcycle driving erratically on Highway 6 going from Waukee to Adel. Deputies located the vehicle and followed it, and Knowles allegedly accelerated away from them and initiated the chase. Officers followed the suspect through Adel and all the way to Redfield. Once there, the driver appeared to lose control of the motorcycle in the gravel parking lot of the Redfield Co-op. Knowles was then arrested without further incident.
He is being charged on several counts, including: eluding, a class D felony; possession of a controlled substance (methamphetamine), an aggravated misdemeanor; and simple misdemeanors for possession of drug paraphernalia, and three counts of failure to stop in assured clear distance. He was also cited for failure to obey traffic control device, unsafe passing, speeding in a work zone, registration violation, failure to provide proof of financial liability, and no valid motorcycle license. Knowles was transported to the Dallas County Jail and is now being held on $10,000 bond. He had his initial appearance in court on Wednesday and will have a preliminary hearing on July 20th.
The Adel Police Department assisted the Sheriff's Office with the incident. Raccoon Valley Radio will bring you more information as it's made official.