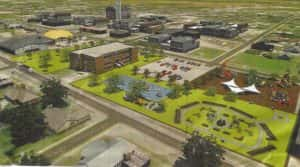 With the recent unveiling of the finalized projects in Greene County's Vision 2020 list was a shift in one particular area.
Tabbed as the 3-Block Revitalization Project, it combines several of the projects from the initial list that was presented earlier this year. We've previously reported that plans include expanding or renovating the current Greene County Early Learning Center facility, installing a splash pad and playground area, renovating the current middle school into an apartment complex, closing Harrison Street and turning that into a "green space" and building an indoor water park next to the Greene County Community Center. Greene County Development Corporation President Sid Jones says following passage of the Greene County School District bond referendum, the "crown jewel" as he calls it, this project is the next set of "jewels."
"And those improvements that are being looked at to being done there stretch beyond our county really and should attract people to not only recreate here in those spaces, but to also maybe consider living in Greene County as a choice."
Jones explains that all of the areas in the 3-Block Project are top priorities as outlined by the steering committee, which is mostly made up of millennials. He talks about some of the areas included in the plans for the projects.
"The indoor aquatic park, it's not a swimming pool. It is an indoor water park like you've experienced at a larger hotel. It's for one-year-olds probably up to the early teens. Those are the kids that really enjoy that activity. The splash park it's also free. And when you develop it into a children's environment, you can put a children's playground and recreation area and that splash park together. It's a place during the summer months where families just congregate."
Parts of the project, like the splash park, the Vision 2020 committee is hoping to have partnership with the City of Jefferson to work with. However, funding for the almost $5 million project hasn't been determined. Click the link below to learn more about the project and the other projects in the Vision 2020 program.