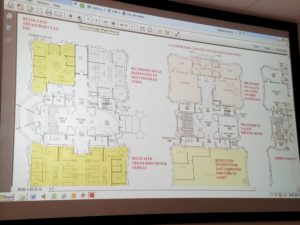 The space needs in Dallas County have been a frequent topic of conversation for more than a year, and the wheels finally seem to be turning.
The County recently enlisted the aid of Jerry Purdy of Design Alliance to help them play Tetris with placing departments in the courthouse. Purdy was able to concoct a three-phase plan that would quickly give everyone the space they need. The first phase involves temporarily moving the Recorder's Office from the east side of the second floor to the west side. That would make the entire east side vacant, and allow the Clerk of Court to move up from the first floor. Phase two would begin with moving the Department of Motor Vehicles from its current off-site location into the space vacated by the Clerk. The Treasurer's Office has long maintained the need to move the DMV, so getting them into a new space was a priority.
Purdy believes the first two phases should be fairly easy to accomplish, and Recorder Chad Airhart has agreed to moving his offices as soon as possible. However, the third phase could prove more tricky. First, the Treasurer's Tax Department and Recorder's Office would be relocated to the west side of the first floor, which currently houses Juvenile Court Services. The west side of the second floor would then be turned into two new courtrooms, as requested by the Iowa Court system because of the County's ever growing population. The sticking point is where to put Juvenile Courts.
The final location is the current jail facility across from the courthouse, but that won't become available until after the new law enforcement center is completed next year, and would still need around a year's-worth of remodeling. The Board of Supervisors has discussed various solutions, including moving Juvenile Courts to the Human Services Campus, but it's unclear if the court would approve the relocation. The discussion will continue, though, and once the plans are approved, remodeling could commence as soon as six weeks after.