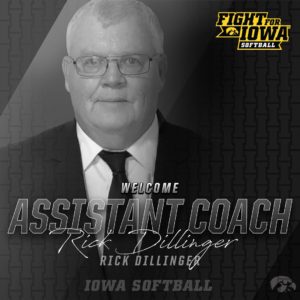 While several people acknowledge him for his softball coaching brilliance, there's another sport Rick Dillinger has taught student-athletes during his 42 years in high school athletics. Dillinger's spent 39 years coaching high school girls basketball at three districts in Iowa including Danville, North Polk, and the previous two winters at ADM Community Schools. His coaching stint at ADM came to an end last week when University of Iowa head softball coach Renee Gillispie announced Dillinger as the newest assistant coach of the Hawkeye Women's softball.
Dillinger found the most success on the hardwood during his stint at North Polk, guiding the Comets girls basketball team to state tournament appearances in 1995 and 2008. As for his two seasons overseeing the Tigers girls basketball program, Dillinger's proud of the work he put in. "In my two years at ADM, I feel like the program right now is ready to jump forward to a new level," Dillinger said, "What level that'll be will depend on the coach and what they're able to accomplish but I believe its a program that'll be above .500 and will continue to build. There's some nice kids coming into that program too."
ADM posted a 9-14 overall record in Dillinger's last season in Adel, posting a 17-32 record in his two full seasons. The Tigers finished last years' campaign 9-9 after starting the season with five straight losses. Finding Dillinger's replacement has become one of the priorities for ADM activities director Reece Satre. The first official practice of the 2018-19 Iowa high school girls basketball season is 101 days from now on November 19.