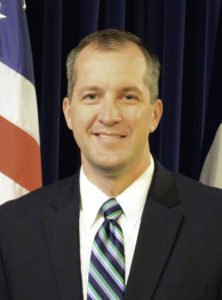 Tariffs on the agriculture industry continue to be at the forefront of the Iowa farming community.
Iowa Secretary of Agriculture Mike Naig disagrees with President Donald Trump's methodology of using tariffs to force their country's largest trading partner, China, to the negotiating table. However, he's hopeful that a solution may be found by next year. As far as the $12 billion bailout from the federal government, Naig believes it is a short-term fix, while the long-term solution is improving overall trade.
"I do think it's a recognition on the part of the (Trump) administration that the tariffs are impacting markets negatively, which is impacting Iowa farmers. We cannot change the trade picture between the United States and China and do it on the backs of Iowa farmers. We haven't seen the details yet, let's just say we expect that it will help our producers. It will not make them whole in any way, shape, or form. But it may help bridge into 2019."
When asked what he would like to see done about slowing down or stopping the sliding commodity prices on grain, Naig says he wants Iowa to have a more aggressive offense in the marketplace. He believes that the demand for food continues to grow every year.
"The other piece that we're talking a lot about with the administration is a strong renewable fuels standard. We need a growing ethanol and biodiesel industry in this state. And so we're asking for higher access to higher blends of ethanol. E-15 would be a good start, let's go beyond that. It's good for our consumers, it's good for our environment, it's good for our producers."
To hear more from Naig on tariffs, as well as the federal Farm Bill, and the state's new water quality bill, listen to today's Community State Bank in Paton Let's Talk Greene County program.