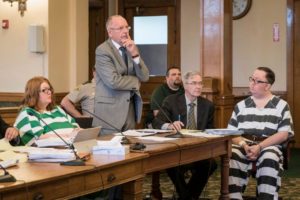 A judge has denied a pair of requests made by a Perry couple who are accused of killing their 16-year-old adopted daughter.
According to court documents, on August 22nd, Marc and Misty Ray's attorneys filed a motion to sever counts related to financial charges against them. The defense argued that the charges were filed almost a year after the original charges, weren't connected to the current case, and should therefore be tried at a later date. The prosecution claimed the financial charges established a motive for the initial charges and should tried simultaneously. The defense also requested that the class A felony charges for first degree murder be dismissed. The defense claimed the charges were added too late after the initial arrest, and were also improperly implied as a charge when the suspects were questioned. The prosecution argued that the State had filed the charges appropriately, and they were added through additional investigation.
Fifth Judicial Court Judge Terry Rickers denied both of the defense's requests on Wednesday. Marc and Misty will stand trial in Sioux City at the Woodbury County Courthouse on February 4, 2019. Marc will face 17 charges and Misty will face 15. The Rays are being charged for their involvement in the death of their 16-year-old adopted daughter, Sabrina Ray, on May 12, 2017. Raccoon Valley Radio will bring you more information as it becomes official.