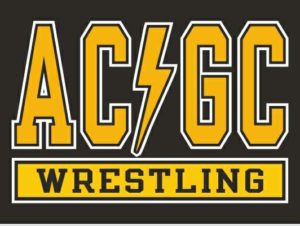 The ACGC wrestling team will hit the mats once again tonight, hosting a home triangular in Guthrie Center. The duals feature Coon Rapids-Bayard and Bedford-Lenox.
The Chargers enter tonight's dual competition at 3-0 after sweeping the West Central Valley quadrangular a week ago. Head coach Shawn Danker talks about the two squads coming to Guthrie Center. "Coon Rapids-Bayard will always have some good kids for us. Always tough duals. Same with Bedford-Lenox. We've seen them Saturday, but their kids always battle tough. So those duals, we'll have to get up and get ready for that right away."
The Chargers will likely be without the wrestler who seemingly clinched their third dual victory of the season. Sophomore Gage Buttler, who won the heavyweight dual against West Central Valley last Thursday, suffered a concussion during the Coach Riley Invitational Saturday. Though the Chargers should get back Seth Danker, who was battling illness last week.
The gold and black are coming off a 2nd place team finish in the Coach Riley Invitational, with seven individuals finishing in the top three. The duals begin at 5:30pm from ACGC High School in Guthrie Center.