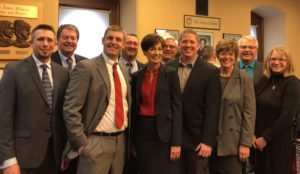 It's not everyday that the governor of your state gives a "shout out" to your community in her Condition of the State Address, but that's exactly what representatives from Greene County enjoyed hearing Tuesday at the statehouse in Des Moines.
As part of Governor Kim Reynolds' speech, she pointed out at the end about Jefferson being a rural community leader using "ingenuity and drive" to become a small town that "can be as vibrant as they've ever been." One of the pieces of that leadership is bringing the software developer company Pillar Technology to Jefferson with the Forge. Chris Deal with the Jefferson Forge was one of the representatives in attendance and says it was a rewarding experience hearing what the governor had to say about the progress that Greene County was making.
"(It was) Just very nice to see that people are recognizing what were doing and also on a bigger picture looking at as a model community that we hope others will be able to follow."
Last month, visitors from California came to Jefferson to talk about all of the progressive projects from the new high school and career academy with the Greene County School District, to the vibrant downtown area and Pillar Technology. Deal says that event and the governor's speech on Tuesday should make people think that rural is the place to be.
"There is a shift in focus to rural America. And (there's) this underlying desire for people to see rural Iowa and rural America be successful, and to buck the trend  that we've been seeing more recently where rural towns are shrinking. People see what we're doing in Greene County and say 'Hey that's something that's something unique and that's something that has a really good chance of succeeding."
Those that joined Deal at the statehouse included Nick Sorensen with the City of Jefferson, Greene County Supervisor Dawn Rudolph, Jefferson Matters: Main Street Program Director Peg Raney, Greene County Development President Sid Jones, Greene County School Board Member Dr. Steve Karber, Iowa Central Community College President Dr. Dan Kinney, Jefferson Telecom COO Jamie Daubendiek, Midland Power Cooperative Vice-President of Marketing and Business Development Norm Fandel, and Linc Kroeger with Pillar Technology and Accenture.