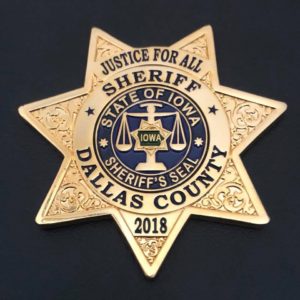 The Dallas County Sheriff's Office has a new piece of equipment they're preparing to utilize, which Sheriff Chad Leonard believes will drastically improve certain aspects of their responsibility.
Using drug forfeiture funds, the Sheriff's Office purchased a new unmanned aircraft system (UAS), commonly referred to as a drone. Leonard says using a drone is not a foreign concept to him and his deputies, though they've never before had one of their own. "We've had to call a number of drones out from different counties over the last couple years that I can think of. Whether it was the ice jams on the river, and we've used them for search and rescue, there's a lot of benefit to that. And that's truly what it's going to be used for, is just the search and rescue, locating stuff like that. And I think it's going to be a big asset for us."
Leonard adds, a few deputies have been trained on how to pilot the UAS, and he believes it should be ready to go the next time they need it. He feels having a drone would have made past missing person searches a lot more efficient and effective, so he's anxious to see how well it will work out in future instances. To learn more about this and other Sheriff's Office topics, click the links below to listen to the two-part Perry Fareway Let's Talk Dallas County program with Leonard.
https://www.raccoonvalleyradio.com/2019/10/10/lets-talk-dallas-county-10-10-2019-chad-leonard-part-one/
https://www.raccoonvalleyradio.com/2019/10/11/lets-talk-dallas-county-10-11-2019-chad-leonard-part-two/