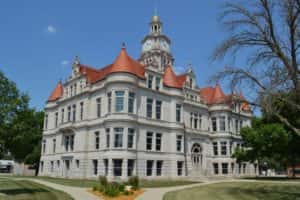 A trial date has been set for the two men accused of breaking into the Dallas County Courthouse in September.
According to court documents, 29-year-old Justin Wynn of Naples, Florida, and 43-year-old Gary DeMercurio of Bothell, Washington have entered not guilty pleas to charges related to the incident, and they will go to trial on April 20, 2020. The two "penetration testers" with the Colorado-based cybersecurity company Coalfire were scheduled to have an initial hearing Wednesday morning, but it was cancelled shortly before. The magistrate in the case still went ahead and set the trial date based on recommendations from the judge and attorneys.
Wynn and DeMercurio are accused of breaking into the Dallas County Courthouse on September 11th at around 12:30 a.m., a task they were hired to do by the State Court Administration (SCA). They were arrested by Dallas County Sheriff Chad Leonard, who has repeatedly emphasized that the state had no right to execute security testing of that sort in a county-owned building. Initially, the charges were of third degree burglary, a class D felony, and possession of burglars tools, a serious misdemeanor. The felony charges were recently amended to trespassing – first offense, a simple misdemeanor, at the request of Dallas County Attorney Chuck Sinnard. Coalfire CEO Tom McAndrew has criticized the handling of the incident and the arrest of his employees, and has demanded all charges be dropped.
Raccoon Valley Radio will bring you more information as it becomes official.