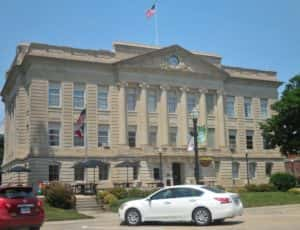 Iowa Governor Kim Reynolds recently signed a new law allowing weapons into county courthouses.
Greene County Attorney Thomas Laehn says the new law amends the current Iowa Code that had given a "political subdivision of the state" the right to prohibit people from bringing firearms or other dangerous weapons into that political subdivision's building, such as county courthouses. Laehn points out the new law overrides the County's resolution that the County Board of Supervisors approved in February of 2011 prohibiting firearms and other dangerous weapons on county-owned property. 
Laehn notes the new law does allow for the County to continue to prohibit firearms from entering the courthouse. He says the Supervisors can lock two of the three doors to the courthouse, hire an additional Greene County Sheriff's Deputy who is stationed at the only open entrance – and must be armed – and use a wand to check everyone who enters the building. Laehn adds, this is a policy that must be made by the Supervisors.  
The decals that have been posted on the three exterior doors of the courthouse following the County's 2011 policy were removed so that the County wasn't in violation of the new state law. Laehn says if someone were to be denied access to the courthouse for carrying a firearm or other dangerous weapon that individual could seek an injunction in court and force the County to admit the person into the building.