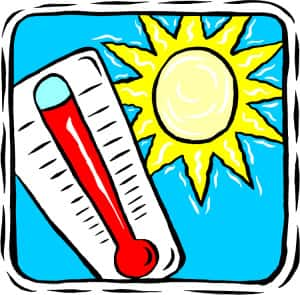 With high temperatures in the 90s this week and a possible heat index of over 100 degrees, public health officials are urging everyone to take precautions against heat-related illnesses.
Greene County Public Health Director Becky Wolf says while everyone is susceptible to heat-related illnesses, there are groups that are at higher risk. Those groups include the elderly, along with infants and young children. 
"We just really need to be aware: when it's really, really hot the risk heat-related illness dramatically increases when the heat index climbs above 90 degrees or more."
Wolf discourages from doing a lot outdoors when the heat gets above 90 degrees.
"Don't do overexertion. Don't be going out and pushing the lawn mower like you usually do if it's a high heat index. Because you're going to exert yourself more and that's more exertion on your vital organs including your heart."  
Wolf recommends staying in shady areas or indoors where it's cooler, along with drinking plenty of fluids to prevent heat-related illnesses such as heat exhaustion.