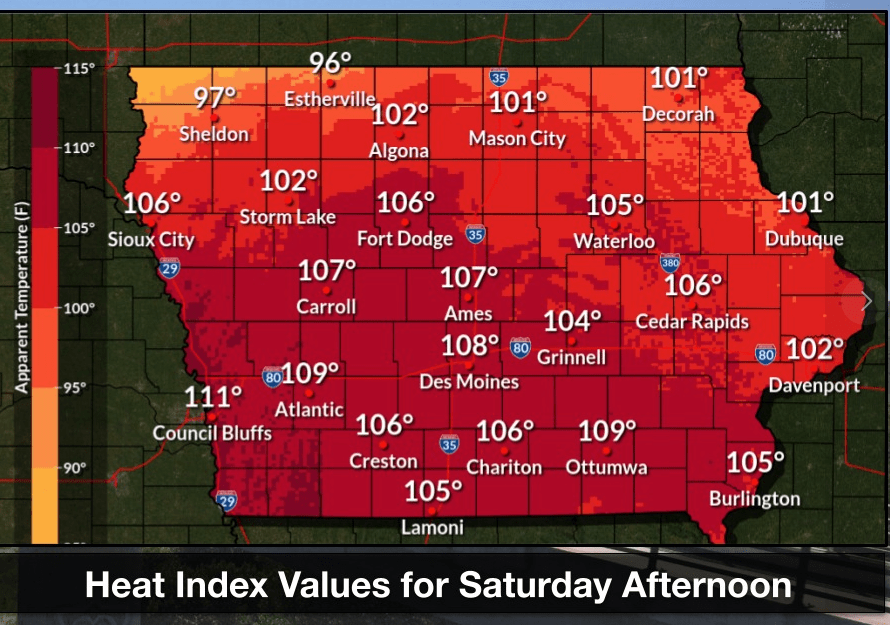 Temperatures are once again expected to reach triple digits across the Raccoon Valley Radio listening area today.
Weatherology Meteorologist Jennifer Wojcicki talks about what is in store for our area today.
"We'll get back into the upper 90s, right around about 98 degrees with sunny skies. That humidity is still going to stick around. We're looking at heat indicies again right around about 105-106 (degrees) on Saturday."   
Greene County Public Health Director Becky Wolf says very hot days like today should not be taken for granted.
"We live in Iowa, we live in the Midwest. We know it's going to be hot, we know that there's going to be days when we have 90+ to 100 degree temperatures. But the thing to remember is that there are still about 600-700 people that die every year due to heat-related deaths or illnesses, and they are preventable."   
The National Weather Service has issued a heat advisory for Greene, Dallas and Guthrie counties from noon to 9pm where the heat index could reach as high as 107 degrees later today.