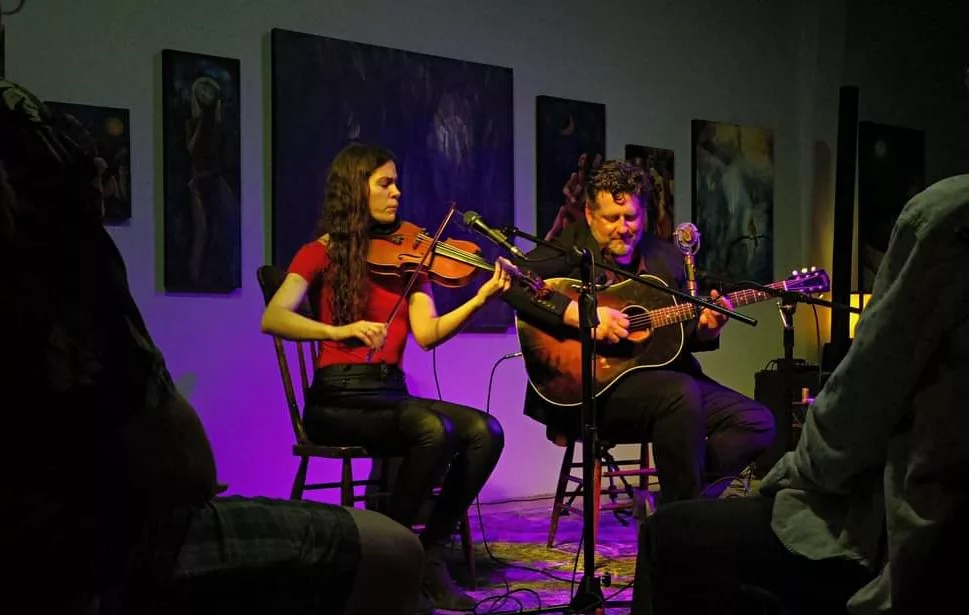 Chad Elliott (right) opens Elliott Art Studio this past May with a performance as the Weary Ramblers. Photo courtesy of Roger D. Feldhans
A professional artist and musician recently opened a studio business in Jefferson.
Chad Elliott is the owner of Elliott Art Studio, which is located at 113 South Chestnut Street. He creates original works of art through paintings and ceramics, as well as a singer and songwriter of original music for the past 25 years. It was only during the COVID pandemic that Elliott wasn't able to perform his music as much and that his artwork carried him through that he realized his home studio was becoming a problem. 
So when his family was looking for housing options, Elliott explains that they were looking to be closer to family and he describes why they landed on Jefferson to call their new home.
"We were looking in this region and I've known for years about Jefferson and how it's been growing, and this amazing art scene has been picking up. It's pretty amazing to see a small community like that (and) support the arts so well. So many people behind it too, usually there's only a couple of people but there's a good group here that really supports it.     
Elliott says the front part of his business is an area that showcases his works of art and when it is open, people can interact with him and ask him questions. He points out the main open space is his demo recording studio and a sitting room for people. Elliott held a soft opening this past May with a concert for the individuals that purchased his art work and other items to help support his business and the feedback has been great.
"But it's a space for me to have creative events. Whenever people have come in they have been so supportive. I feel like this community, some communities you have to prove yourself, but it felt like this community was just like, 'Come, we want you.' And we have loved being back in the area first of all. Jefferson has been a good choice for us."      
Elliott is hoping to have steadier hours this fall and winter once his concert schedule slows down. He is also hoping to start "Listening Room Concerts" where other musicians can come and perform live for people. He adds that Elliott Art Studio will be open to the public for Art in the Garden at the Thomas Jefferson Gardens of Greene County on Saturday, September 16th from 10am-4pm.