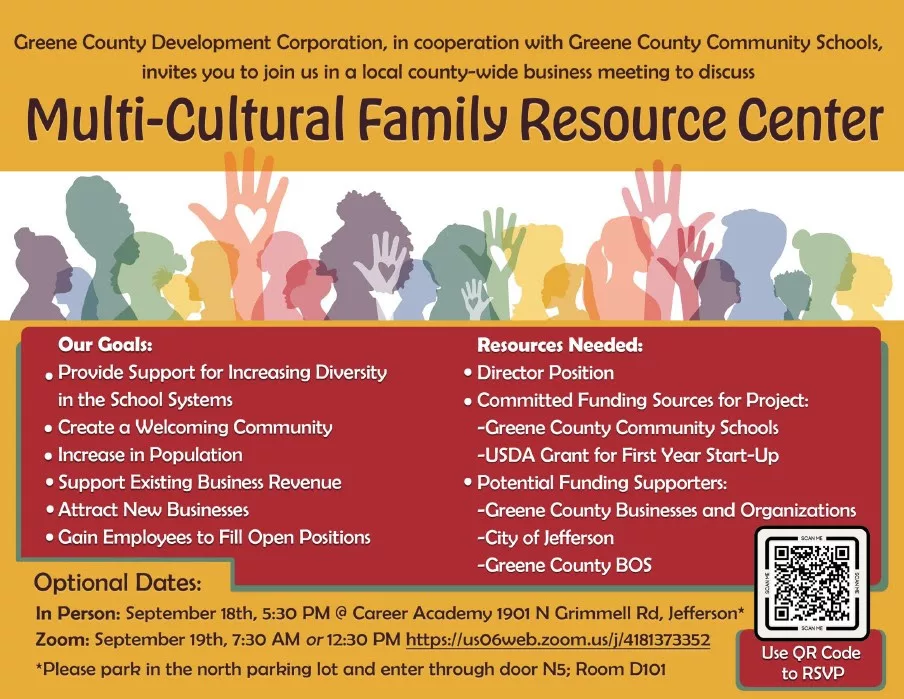 Image courtesy of Jefferson Matters
A reminder that tonight and tomorrow are opportunities for businesses and the public to learn more about an initiative with Greene County Development Corporation (GCDC).
GCDC is partnering with the Greene County School District to establish a Multicultural Family Resource Center. GCDC Executive Director Ken Paxton tells Raccoon Valley Radio a director will be hired to assist individuals and families as they make transitions to move, live and work in Greene County, and the director will also work within the school district and with employers as well. 
GCDC received a US Department of Agriculture Rural Development Grant of close to $100,000 that will fund the initiative for the first year. Paxton says they are looking for financial support to help fund this program for the next three years. Three public meetings have been scheduled to learn more about the initiative and Paxton points out that the Multicultural Family Resource Center is the new iteration of the previously known Nueva Vida En Greene County and he explains why they changed the name.
"We expanded our coverage because there are an awful lot of areas that are coming in from an immigration standpoint. The center, one of its functions, is that multilingual function. So that if somebody comes into our community as not English speaking we have some support for that to be able to acclimate them and get them into our community. By the way, we will be the first rural community in Iowa to have a center like that. So I'm proud of us again for kind of taking the first step forward."  
The first meeting is tonight at the Greene County Career Academy at 5:30pm. Attendees are to park in the north parking lot and enter through door N5. The other two meetings will be held remotely tomorrow at 7:30am and 12:30pm. Click on the QR Code to sign up for the virtual option.