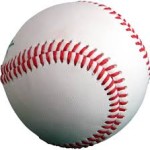 The ADM boys baseball team gets back on the diamond for their first game of the 2014 season in less than a week.
Second-year head coach Jason Book says defense and pitching have continued to be his team's main focal points during the first few weeks of practice, and he reflects on his squad's progress.
"We're coming along okay–we're maybe a little behind where we want to be.  We've got a lot of track and soccer guys and a couple of golf guys, so it's been kind of a skeleton crew at practice… every night you never really know who it is you're going to have.  So, we're maybe a little behind on the pitching side and the defensive side than where we want to be, but this season is a marathon, it's not a sprint."
As the Tigers continue to prepare for their opening night on Memorial Day against Interstate-35, Coach Book says much of practice this week will be comprised of situational defensive drills.
ADM will also be working on simple throwing and catching the baseball as they look to be fundamentally sound come week one.
In just their first week, the Tigers play next Monday, Tuesday, Wednesday, Friday and Saturday.