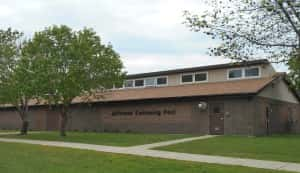 The Jefferson Municipal Pool will be opening for the season on Memorial Day this year and Parks and Recreation Director Vicky Lautner wants to remind everyone of some safety precautions to help keep the pool clean.
She says the Iowa Department of Public Health recommends that anyone who has diarrhea can not be in a swimming pool for at least two weeks.  There were over 280 cases of the crypto bug found last year in Polk County as a result of people with diarrhea in swimming pools.
To further prevent the virus from infecting the pool, Lautner states that patrons should take a shower before entering the pool and baby diapers will no longer be changed on the pool deck but rather, they must be changed on the changing tables provided in the locker rooms.
She notes that if the water gets infected with crypto, then they have to shutdown the pool for over 12 hours and super chlorinate it with 20 parts per million gallons of water to kill the virus.  Once the pool is cleaned, then they have another eight hours before the pool is usable again.  In total, the pool is closed for two days per crypto case.
Lautner also encourages people not to urinate in the pool.  She explains that by urinating in the water, it can cause poor water and air quality for others.  She adds that's the reason why they take 10-minute breaks every hour for people to use the restrooms so that won't happen.
Lautner says they haven't had any issues but that the public needed to know about these precautions before they open for the season.
Monday's hours at the pool are 11:30am-1pm for adult lap swim, 1-8pm is open swim with 5:30-6:30pm reserved for family hour which means all children must be accompanied by an adult.
Call the Greene County Community Center for more information at 386-3412.