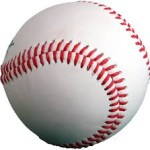 The ADM baseball team lost both of its games against the two Ankeny high schools on Saturday afternoon, falling to Ankeny High 8-3 and to Ankeny Centennial 4-2.
Coach Jason Book's club lost all three of their games against Class 4A foes over the weekend and their overall record has dropped to .500.
Despite the losses though, Coach Book says he's happy with how his team competed against the Ankeny schools, they just didn't take advantage of their numerous run-scoring opportunities.
In their first game against Ankeny Centennial, the Tigers could muster just two runs despite collecting seven hits.  ADM also got a solid star on the pitcher's mound from Logan Lemke in that ballgame, as he went 5 ⅓ innings, allowing only four runs on four hits while striking out six.  Lemke did not play high school baseball last year so it was his first start on the hill in about two years.
The Tigers' bats then went a little quiet in their 8-3 loss to Ankeny High, as they had just two hits and struck out nine times.
Coach Book's club is back on the diamond again tonight for its first conference game up the year up in Carroll.  ADM will also play conference games on Wednesday, Thursday and Friday against Boone, Bondurant-Farrar and Perry, respectively.