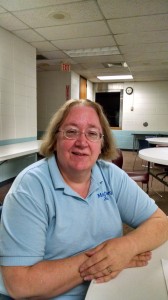 Jean Dowd has spent a lot of hours at the McCreary Community Building in Perry through the years.  Sure, she is the first face people see behind the desk when they arrive at the highly popular Rec Center in town.  But when Dowd punches out the time clock for the city of Perry, she punches in her time clock for the Perry Community School District.  In fact, Dowd doesn't even have to leave the building.  She switches from her swivel chair behind the desk at the McCreary Center to pool side inside the Olympic size pool at the Rec Center.  And she has done it for years.  Dowd will be coaching the Jayette swimmers for the 16th year in 2014 with 15 of those years as Head Coach.
"I don't really have one single best memory," stated the veteran coach.  "I like to remember how the girls have worked together as a team and watching the girls grow and mature as student-athletes and eventually grow into mature adults.  That's the reward of coaching for me."
Dowd has enjoyed a lot of success with the Perry program despite not always having the high numbers of some of the larger schools that Perry competes against.  She says the sport of swimming is alive and healthy in Perry and is continually changing and adapting like most sports.
"There is a lot more focus on dry land training now.  Lots of time spent on proper cool downs and the safety of all the athletes.  The cardio work outside the pool has increased so much.  It is a different sport from when I first started doing it.  That's for sure."
The Jayette swimmers will spend a lot of time improving their cardio before they even hit the refreshing waters at the Rec Center.  The DVD workout "Insanity" has become a popular choice with this year's Jayette squad.  Often times, they will start their workouts with the 40 minute DVD routine on the McCreary Center stage.  And like their coach, move into the water for the second part of their busy day.