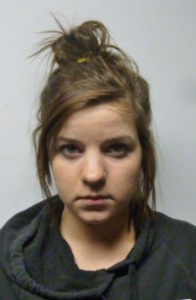 A Jefferson woman will face more felony charges for forgery.
Police Chief Dave Morlan says 23 year-old Hayley Lynn Brown is charged with a Class D Felony for three counts of forgery.  Brown is accused of stealing checks from a residence in Scranton and cashing them for money on December 7th and 8th.
We've previously reported that Brown is facing additional felony charges for ongoing criminal conduct, forgery, burglary, unlawful use of a credit card, identity theft and unlawful possession of prescription drugs from incidents that occurred from July 30th through August 13th.
Court documents show that Brown's trial date has been cancelled and a pretrial date for her previous charges has been scheduled for January 12th.  It is during this time that she is expected to enter her plea.  The report also shows that she had her 81 additional counts of unlawful use of a credit card dismissed due to them being incorporated into the pending case.
She was serving a two-year probation sentence for an unauthorized use of a credit card conviction from earlier this year.  Because she violated her probation, she was sentenced to a residential facility to continue to serve her probation sentence.
Chief Morlan notes that she will be transferred to the Greene County Jail where she will be booked and then taken back to the residential facility until a trial date is scheduled.