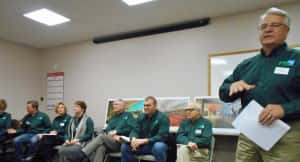 About 40 people attended last night's Grow Greene County Gaming Corporation's town hall meeting in Jefferson at the Greene County ISU Extension office.
GGCGC President Norm Fandel led the meeting.  He said that since Greene County has been granted a casino, the county would no longer be given money from the state as a non-gaming county.  He pointed out that their non-profit gaming license holder organization would receive at least an estimated $1.5 million of the adjusted gross revenue from Wild Rose Jefferson.  Of that amount, up to 20% could be allocated to the six contiguous counties, leaving roughly $1.3 million for worthy projects in Greene County.
There were a number of questions addressed during the meeting about eligibility, how money was going to be distributed and how often the money would be distributed to organizations.
Fandel replied that their group hasn't set up the guidelines for their requirements, but all those stipulations may play a part when they do.  However, he did say that they will continue to work with the Greene County Community Foundation because he feels they can continue to provide funds for smaller projects, while GGCGC tries to look at the "bigger picture" type projects that will help grow the county.
"So we're looking at any kind of a project that we feel has a value that sets us a part from our competitors.  I'm not sure just yet of what those may be, we've got some of those hidden ideas but that's why we're asking the community right now is what is their vision for us for the next 5, 10, 15 years."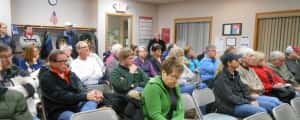 Some of the potential projects that were discussed included building a new county-wide animal shelter, helping to finish renovating the Jefferson VFW building, helping with projects on the Raccoon River Valley Trail, installing a full carillon bell system on the Mahanay Bell Tower and giving money to Greene County Development Corporation to help businesses expand which would have an impact on economic development for a community.
Some of the projects that GGCGC will probably not consider are any budget line item project, creating salaries for non-profit organizations, no specific religious-related project and anything else that the state has regulations against allowing funds to be distributed to.
Fandel pointed out that the way in which they distribute their funds could also change yearly as well.  He asking for public input at the next town hall meetings for people to come with big projects that would have a major impact on the growth of the county.
The next two town hall meetings will be on Thursday, January 15th at the William Paton Library in Paton at 6pm and at the community building in Churdan at 7:30pm.