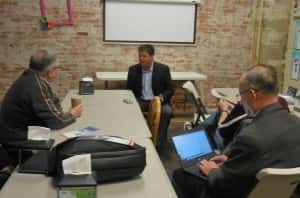 A Republican candidate for Iowa's 4th Congressional District stopped in Jefferson on Wednesday.
State Senator Rick Bertrand is challenging Republican incumbent Steve King for United States Congress. The Sioux City native grew up on his family's farm, attended Bishop Heelan High School and graduated from the University of Northern Iowa in 1993 with a degree in political science. He was first elected to the Iowa Senate in 2009 as the first Republican Senator in his district in 30 years. He was then re-elected in 2014. Bertrand believes the time is right to make a change in Washington D.C.
"I just think Iowans are ready for a change. I think Iowans are ready for a fresh vision. When people go to the polls this June 7th, there's going to be a clear choice between the status quo of Washington (D.C.) or someone who is young, proven and is willing to vote for their district and drive an Iowa agenda."
Even though the 46-year old only has six years of public office experience compared to King's 14 years in the US House, Bertrand thinks King has lost touch with Iowans and is labeled as the least effective Congress person. He also believes in setting term limits for Congress members and wants to help Iowa drive their economic development potential and agriculture industry at the national level.
Iowa's primary election is on June 7th.