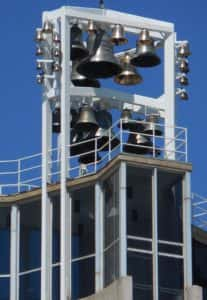 The 47 bells are now installed on top of the Mahanay Bell Tower in Jefferson, so what's next for the 51-year-old structure?
Bell Tower Community Foundation President Carole Custer says the four-octave carillon will serve as an educational activity for those who would like to perform live concerts.
"Our board member Peg Raney is overseeing the music committee. She has a group of people who are very interested in music who are getting together and developing tower tunes. There will be daily, midday concerts. We have a number of people around the county who are excited to be able to play the carillon on the keyboard."
She adds that they can also take requests for music to be played for a small fee.
"We can play music on the bells for weddings. We can play music in remembrances for people at the end of a funeral, people's birthdays, people's anniversaries, we can do all kinds of things like that."
Custer notes that Rick Morain will be perform the first concert prior to the Bell Tower Festival Opening Ceremonies on Friday, June 9th.
To make the concerts possible, the Greene County Supervisors and Jefferson City Council agreed to each pay $550 for an annual music license to publicly display and perform music.