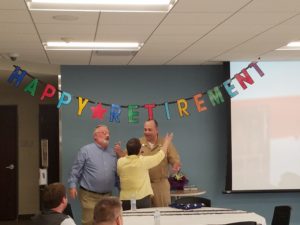 While Dallas County Emergency Management Coordinator Barry Halling won't officially be retired until Tuesday, his 42-year career was celebrated Friday afternoon.
Sheriff Chad Leonard spearheaded the party, and the room was filled with people who have worked with Halling over the years. Attendees included Perry Police Chief Eric Vaughn, Dallas County Supervisors Mark Hanson and Kim Chapman, Emergency Management Coordinators from several counties, and many others. One surprise guest was Halling's son, Bill, who was able to get leave from his military posting to attend his father's retirement party.
Adel City Council member and Halling's longtime friend and coworker Bob Ockerman served as emcee for several presentations to the man of the hour. He was even given a final send-off from the Dallas County Dispatch Center. Halling himself then got up and spoke. He reflected on his time working in public service, and thanked everyone in attendance who he's worked with over the last 42 years. In that time, Halling has served as a member of the Perry Police Department and Volunteer Fire Department, Dallas County Emergency Medical Services, and for the last 20 years as Dallas County's original and only Emergency Management Coordinator.
The Emergency Management Commission hasn't yet named Halling's replacement.