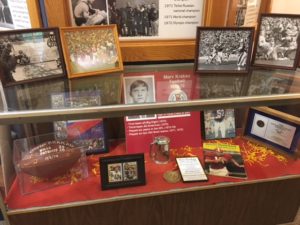 The Mary J. Barnett Memorial Library continued their Smithsonian exhibit tailgate party series with Iowa State University Day on Saturday in Guthrie Center. The guest of honor was former Guthrie Center Tiger, ISU Cyclone, and Buffalo Bill football player Merv Krakau.
Krakau, who didn't sign originally with the Cyclones, talked about his journey to Iowa State.
"UNI (University of Northern Iowa) had come calling and I had actually signed a letter of intent to go to UNI. During the track season, I don't know what happened but somehow Iowa State got some notice of me. My high school football coach Larry Brandt tells the story that they called actually Jimmy Johnson. He was an assistant coach at Iowa State… He came out and talked to Coach Brandt and then to me and recruited me and got all that done…So I made the decision to go to Iowa State."
Kraukau says nutrition, weight training, and media exposure are the biggest differences between the NFL today and when he played. He was drafted in 1973 by the Bills, where he played for five seasons. He was also inducted into the Iowa State University Athletics Hall of Fame in 2007.
Former Cyclone baseball player Len Snyder and ISU mascot, Cy were also guests at the event. The library will also host a University of Iowa themed event later this month. To hear more on the exhibit and the events so far, listen to Director Pat Sleister on today's Let's Talk Guthrie County program.