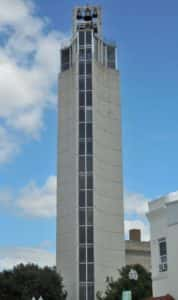 A special event is taking place this weekend at the Mahanay Memorial Carillon Tower in Jefferson.
In honor of the bell tower turning 52-years-old on Tuesday, October 16th, anyone who is 52-years-old can visit the bell tower for free this weekend. Normally adult admissions are $3, but for this Saturday and Sunday only, those who are 52-years-old can ride up the 12-stories to the top of the bell tower for free. Plus as a special treat on Tuesday, the Happy Birthday song will be played as one of the three featured songs at the top of every hour to celebrate the occasion.
A reminder that the bell tower is open only on the weekends through October from 10am to 4pm. However, it can also be open by request or for special tours by calling the Greene County Chamber and Tourism office at 386-2155.