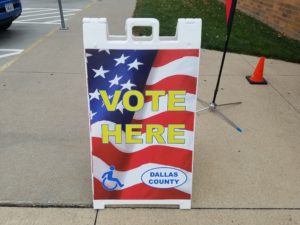 The polls closed across the State of Iowa at 9 p.m., and results are now in for Dallas County.
The voters elected to keep the status quo on the Board of Supervisors, choosing Republican incumbents Brad Golightly and Kim Chapman, who received unofficially 55% and 50% of the votes in their respective races. Other County Republican incumbents who held onto their seats include Treasurer Mitch Hambleton, who received 55% of the votes, and Recorder Chad Airhart who ran unopposed. There was one unseated incumbent, however, as Democrat Wayne Reisetter was defeated by Republican Chuck Sinnard by a margin of 52% to 48% in the race for County Attorney.
In the state races, Democrat Warren Varley won the Dallas County race for Iowa House District 20 with 54% of the votes. However, there are three other counties in the District, and it's not yet known how he fared there against Republican opponent Ray "Bubba" Sorensen. In District 19, Republican Chris Hagenow won both Dallas and Polk County to earn the seat over Democrat Gregg Gustafson, taking Dallas with 56% of the votes. The County also supported Republicans David Young and Kim Reynolds, the incumbents for U.S. Congress, District 3 and Governor, respectively. Finally, the voters of Dallas County also elected to keep the judges up for retention, each by a comfortable margin.
As a reminder, the results aren't official until they're canvassed at next week's Board of Supervisors meeting.