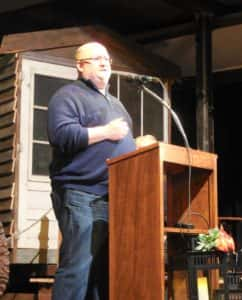 Imagine a room with the Microsoft Chief Technology Officer, the Co-Founder of LinkedIn, a US Congressman from California, with the presidents of Iowa Central Community College and Des Moines Area Community College, the Director of Iowa Workforce Development, and other big names from the tech world and places in Silicon Valley. And now imagine them all at the History Boy Theatre in Jefferson.
That's what this past Saturday was like for a few invited Greene County residents as they got hear from 18 speakers who delivered messages about dreaming big and connecting people with tech jobs in rural areas. The night focused on what Pillar Technology has done with Jefferson to create a training program with the Forge for high paying tech jobs and by utilizing the career academy with the Greene County School District to give students advanced education without extreme college debt.
US Congressman Ro Khanna from California was inspired to see this kind of model grow across the country.
"I was really excited to see so many tech leaders came out and made concrete commitments (like) pledges of scholarships, pledges to create a technology lab, pledges to hire folks and work with folks. And that's the type of collaboration we need. Technology leaders looking for talent in places like Jefferson and partnering with Jefferson."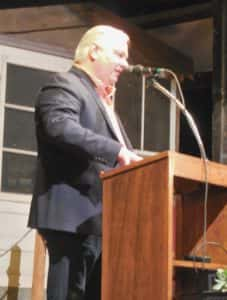 One of the newest Jefferson Forge employees, AJ Whatling, will be a mentor in the training program and he talked about what he sees in this new venture for Pillar.
"I think Jefferson is an opportunity for us to keep people here. And I want to be able to be at the spearhead of leading that initiative to keep people here, to bring the work here, and to improve people's skills, and give them the confidence and even the wealth if that's what it takes to live here."
Once an individual goes through the program at the Forge in Jefferson, that individual can make upwards of $75,000 with very little to no college debt. The Forge is anticipated to open at 204-206 East State Street in downtown Jefferson by early June of 2019. LinkedIn Co-Founder Allen Blue summed up the event with a memorable last line. "I think Jefferson could be a place where it's a lighthouse for attacking this problem all across the United States."
A full list of all of the speakers can be found below.
(Those not pictured:  Linsey Kitt – High School Senior,  Greg Huber – Biohub, and Beth Townsend – Director of Iowa Workforce Development and Agency Lead for Future Ready Iowa)