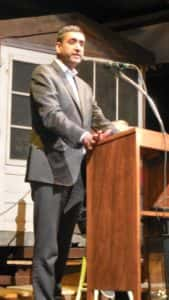 With the recent visit of several tech representatives from the Silicon Valley area into Jefferson, many were there to tout the success of private/public partnerships to bring Pillar Technology, a software developer, to the rural community.
One of those supporters was US Congressman Ro Khanna from California. He is interested in taking the "Jefferson model" and applying it across the country, with support at the federal level.
"We need to support this by having high-speed internet and make these communities able to participate. We need to create funding for tech institutes so that Des Moines (Area) Community College and Iowa Central (Community College) can expand their technology education and can prepare people for the jobs of the future. And we need to have employment tax credits linked to hiring in these communities for the jobs of the future."
Khanna stressed the fact that finding talent in rural communities is an untapped resource.
"This is a place where we need the talent. We're not going to be able to lead over China with 1.2 billion people if we don't have every community in America mobilize to help build the future. And we need these partnerships to do that."
Pillar Technology's Jefferson Forge will help train high school students for software development jobs that will pay upwards of $75,000. The Forge is anticipated to open by early June of 2019.