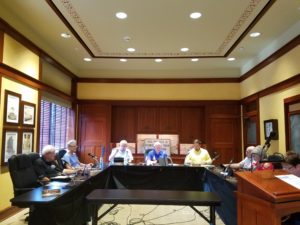 The Perry City Council will convene Monday evening in regular session.
The first action item on the agenda is a resolution approving the Insurance Administration contracts and renewing the insurance plan for City employees through the Iowa Governmental Health Care Plan of Wellmark. Following that, the Council will consider approval of the group dental and vision insurance plans through Principal. There will be increased rates for both plans, which will be discussed with representatives from Bernie Lowe and Associates.
Next, there will be discussion and possible action regarding the approval of a grant application to the Iowa Department of Transportation Fuel System Improvement program for the Perry Municipal Airport. The Council will then consider a reappointment to the Perry Parks and Recreation Advisory Board, as well as a letter of support for the Raccoon River Valley Trail in Adel to be re-designated an "Iowa Great Place." Finally, there will be consideration of a resolution approving a service agreement with Drees Company for maintenance of City buildings.
The meeting will be held at 6 p.m. Monday in the Clarion Room at Perry City Hall.