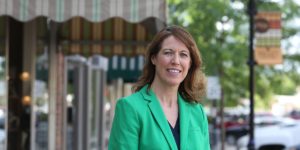 Iowa's renewable energy industries could benefit from a U.S. House bill that's expected to be voted on this week.
The Climate Action Now Act seeks to reinstate the U.S. into the Paris Climate Accords agreement, to which Congresswoman for Iowa's Third District Cindy Axne (D) is a cosponsor. Axne recently introduced an amendment that would extend tax credits for Iowa's biodiesel, second generation biofuels, and wind power industries.
Axne says Iowa is poised to become an international leader in renewable energy, "As we move forward with passing the Climate Action Now Act and taking again a more meaningful action to ensure that we are players internationally when it comes to protecting our climate. You know Iowa can benefit and I want to make sure that we do and so I introduced this bill to give us every opportunity to do so."
Axne also helped introduce a bill earlier this month that would make the second generation biofuel producer tax credit permanent, which expired at the end of 2017. To hear more from Axne listen to today's Let's Talk Guthrie County program on air and at raccoonvalleyradio.com.