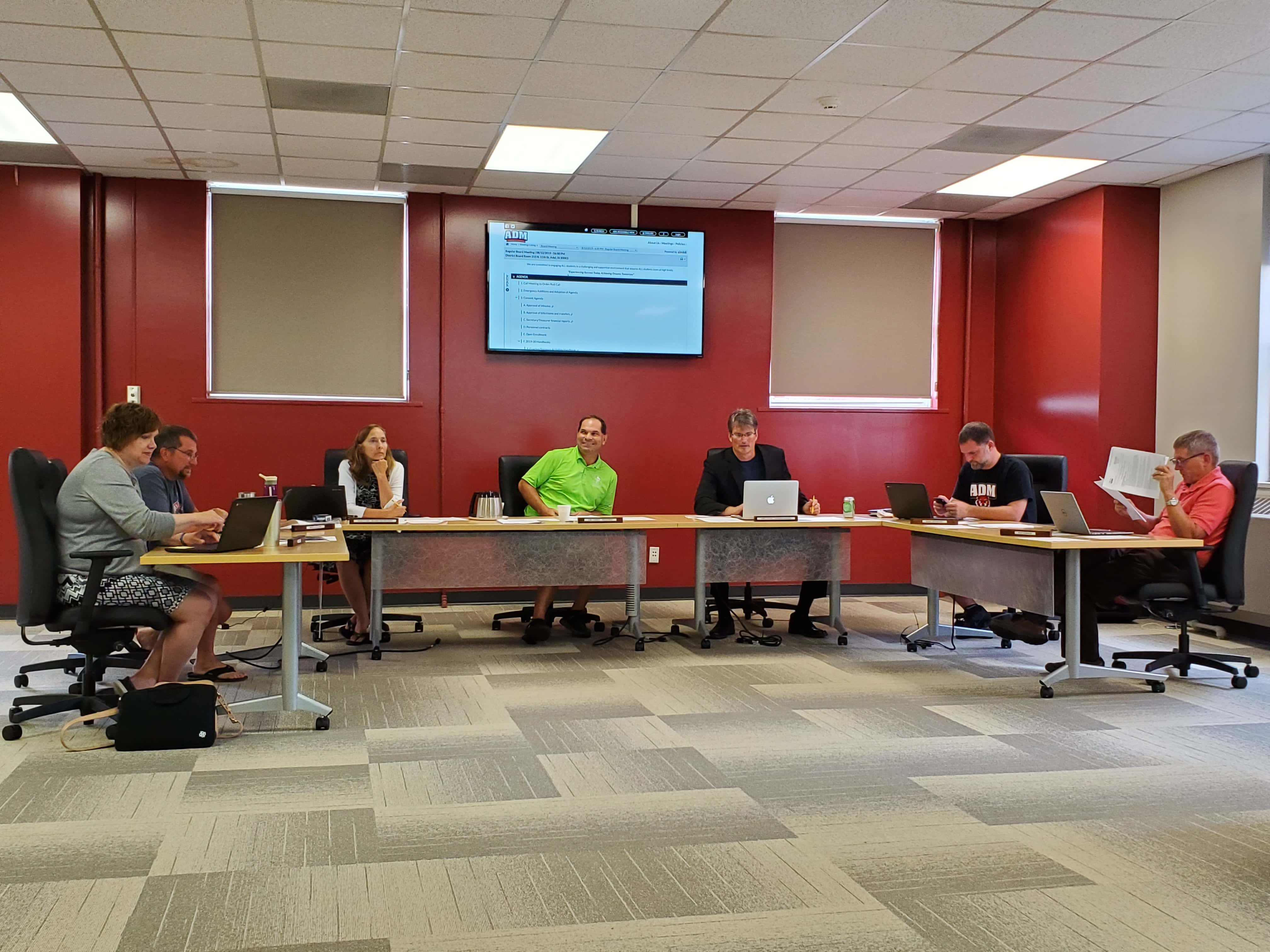 The Adel-DeSoto-Minburn School Board convened Monday evening in regular session.
The meeting began with the focus on learning section, which included a presentation by Technology Director Travis Wilkins on the Professional Learning Community and the focus for the coming school year. Superintendent Greg Dufoe then reviewed the first meeting of the ADM Administration Team. The action items on the agenda began with the approval of the schematic design for the new elementary building in Adel, as presented by FRK Architects and Engineers. The schematic included a wing of the building that would be a Federal Emergency Management Agency (FEMA) rated disaster shelter, which will add additional costs to the total project.
Next, the Board approved the facility use guidelines for 2019-20, moving the Tiger Athletic Club girls basketball organization to third on the priority list for gymnasium use. That was followed by approval of the purchase of a 2020 Chevrolet Suburban in the amount of $40,843.49 for the Transportation Department, as well as $25,331.46 for a new dishwasher. The vehicle will be paid for through the Physical Plant and Equipment Levy (PPEL) funds, while the money for the dishwasher will come from the nutrition funds.
The Board then approved several appointments, including: Jamaica Reed as homeless coordinator; Nancy Gee as Board Secretary, Treasurer, and Business Officer, as well as Equity and Affirmative Action Coordinator; Matt Lohman and Amy Hemphill as level I investigators of student abuse by staff; Dufoe, Wilkins, and principals Lee Griebel, Kim Timmerman, Jodi Banse, and Kimberly Anderson as Teacher Quality Committee members; and Board member Kim Roby as the Iowa Association of School Boards legislative delegate. They also set the official District organizational status and approved the paper for publication. The meeting concluded with discussion items including: a pre-service schedule review; school board election information; the emergency operations plan; and possible changes to the middle and high school traffic flow configuration.
To learn more about the ADM School Board meeting, listen to tomorrow's Perry Fareway Let's Talk Dallas County program on air and at RaccoonValleyRadio.com.