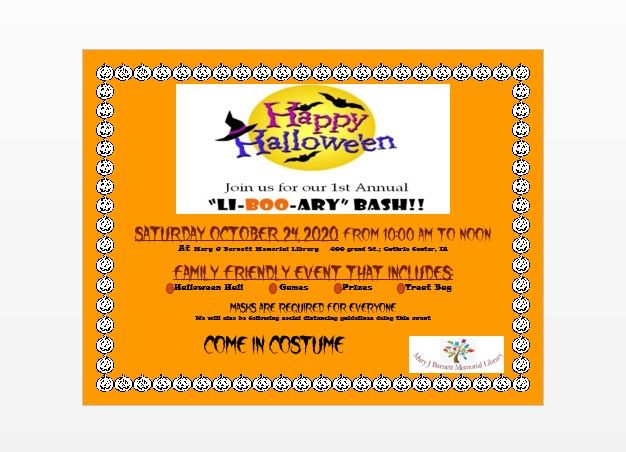 As the COVID-19 pandemic has caused some traditional Halloween-themed events in Guthrie County to cancel this year, a local public library is hosting their first-ever family friendly event next weekend.
The Mary J. Barnett Memorial Library in Guthrie Center is hosting a "Li-boo-ary Bash" from 10 a.m.-noon Saturday, October 24th. Library Director Pat Sleister says this event is geared towards younger children, who are encouraged to dress in costumes, but are also required to wear a face mask, in order to protect themselves, other participants, and the library staff, "We will let them one at a time come through the library and there will be some little things they'll have to do. And maybe some slightly scary things, but geared towards those littler kids that we don't want to frighten. But we want them to have something to be able to do and they just kind of work their way through the little tunnels and hallways and to another door where they'll receive a treat and they can go out the other way."
Preregistration is not required for this free event.