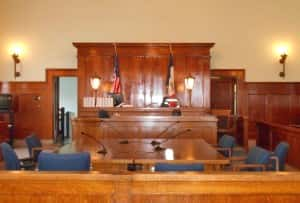 Greene County just wrapped up its third jury trial since the Iowa court system reopened from the pandemic, but it didn't end the same way it began.
Greene County Attorney Thomas Laehn tells Racoon Valley Radio a jury trial was underway, with the only requirement from the Iowa Supreme Court as a mitigation effort against COVID-19 was that anyone who was not fully vaccinated was required to wear a mask. Laehn points out this requirement was on the "honor system" and they were not asking anyone to show proof of their vaccination. 
However, on the fourth day of the trial, August 27th, the Iowa Supreme Court issued a supervisory order to require everyone in a court-controlled area to wear a mask once again. While the change didn't impact the jury trial, Laehn notes it did create issues last Wednesday, during the court services day at the courthouse, including using microphones and harder to understand what a witness was saying.
"I think a jury or a judge can learn a lot about a witness based on the witness' body language and facial expressions. Of whether the person is being truthful, whether they can make eye contact, whether they are frowning or smiling. Their facial features, their facial gestures can really tell a lot."
Laehn explains why the court system is allowed to require masks when other governmental entities like counties and cities are prevented from mandating masks.
"Ultimately it's a separation of powers issue. There are limits on what the legislature can do to affect or restrict the internal workings of the court system, that would violate the separation of powers." 
Laehn believes that with the supreme court mandating masks, it's the first step in a process that may end up shutting down the court system again.