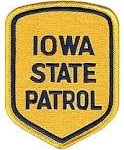 A crash Friday morning in Dallas County on Interstate-80 resulted in injuries.
According to the Iowa State Patrol Crash Report, the incident happened at 7:26am near mile marker 109 where there were stopped vehicles in the eastbound lanes, due to another crash. A 2005 Chevrolet Silverado truck that was driven by 62-year-old Jeffrey Munch of Exira was approaching the stopped vehicles, but didn't stop himself. The truck rear ended a 2014 Dodge Ram 1500 truck, then sideswiped a 2015 Dodge Grand Caravan.
The crash report shows Munch was taken to Methodist in Des Moines by Dallas County EMS with injuries and a passenger in one of the other vehicles, 74-year-old Teddy Anderson of Webster City was also taken to Methodist by Earlham EMS who also suffered injuries. 
The crash remains under investigation by the Iowa State Patrol. The Dallas County Sheriff's Office assisted at the scene. Raccoon Valley Radio will bring you more information as it becomes official.