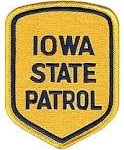 A fatal crash on Interstate-80 in Dallas County happened Friday morning.
According to the Iowa State Patrol Crash Report, the incident happened at 6:45am on mile marker 112, where three vehicles were stopped in the eastbound lanes of I-80, due to traffic congestion from another crash. Then 38-year-old John Hillgren of Bondurant was driving a 2016 Ford F-550 and was approaching the stopped traffic, but failed to come to a stop himself. Hillgren's vehicle rear ended a stopped 2013 Chevrolet Impala, driven by 27-year-old Ryan Hougham of Earlham, which then pushed the Impala into the two vehicles in front of him.
The crash report shows Hougham was taken to Mercy Medical Center in Des Moines by Mercy One where he later died of his injuries. The crash remains under investigation by the Iowa State Patrol.
The Dallas County Sheriff's Office and the Van Meter Police Department assisted at the scene. Raccoon Valley Radio will bring you more information as it becomes official.