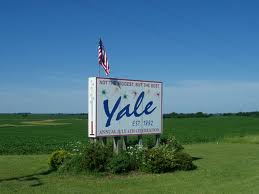 The Yale Community Club has received tremendous support from the residents, alumni and surrounding area in its successful effort to construct the Yale Community Club Building, which opened in November 2009.  It has been the "go to" place for events, receptions and fundraisers.
Community Club President Kendall Kipp says we've been told many times we have the biggest and best kitchen around.  In an effort to keep the good comments coming, we are trying some new and different approaches for food and entertainment Kipp added.
Kipp pointed out the annual 4th of July celebration is three months away and preliminary plans include the Keith West Magic Show.  He will be part of the parade and then will perform a 60 to 90 minute show in the Community Building later in the day.
Another new event includes Sheltered Reality, a non-profit youth group using drums set to music as well as choreography to motivate audiences to realize that anyone at any age can dream and succeed.
The Kenastons will be back by popular demand Wednesday night, July 3 with music and dance.  Concessions will be made available that evening.
Kipp is looking forward to attending these events and says more plans for the summer holiday will be announced closer to those events.