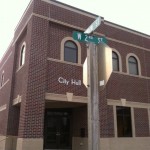 The Panora City Council met Monday evening for the first of its two sessions this month.
The first item the Council discussed was in relation to a Down Payment Assistance Program grant the City will be applying for through the Region XII Council of Governments.  City Administrator Lisa Grossman tells Raccoon Valley Radio the City Council has agreed to provide matching funds for the program in the form of $2,500 per home, with the idea 10 first-time homeowners will take advantage of the opportunity.
Region XII's Down Payment Assistance Program was initially developed "to help communities that have identified insufficient down payments as a barrier to homeownership for low and moderate-income families."
Grossman says the City will not know whether or not it has received the grant from Region XII until late spring.  She adds that the down payment assistance grant is different from the housing rehabilitation grant Panora previously worked with Region XII to complete at the end of last year.
The Panora City Council then set Monday, January 27th, as the date for a public hearing on a proposal to enter into a General Obligation Public Works Loan Agreement.
As the beginning phases of construction for Panora's new Public Works facility draw near, Grossman says the City will be borrowing money from the Panora State Bank to fund the project.  She says the Council will ask for a maximum loan amount of $300,000, though it is unlikely that much will actually be needed to fund construction.
The Panora City Council meeting set for the 27th will begin at 6:30pm in City Hall.