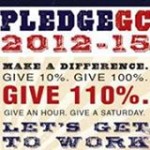 Nerves, excitement, adrenaline… Guthrie Center Revitalization's Debbie Menning has the whole mixed-bag of emotions running through her veins today.
Why, you might ask?
Well at 3pm this afternoon, Menning and other community members will make their much-anticipated presentation to the Iowa Economic Development Authority in Des Moines with the hopes of making Guthrie Center the latest town to receive a Main Street Iowa designation.
While nerves are certainly present, Menning says she's confident today will go well for Revitalization.
"We had two great rehearsals.  Most everyone out of 30-some people were able to be there both times, so I appreciate all their time and commitment.  It's amazing that we can get that many people in the same place at the same time… so I think we're ready, and we're excited."
Menning says today's presentation is loosely structured around Thornton Wilder's classic play "Our Town," with five distinctly different skits contributing to the theme.  The skits include one about six-on-six girls basketball, a jeopardy game of Guthrie Center trivia put on by high school students, and a mock interview featuring Mayor Denny Kunkle.
No matter the result of today's presentation, Menning says her experience in helping with Guthrie Center's extensive Main Street Iowa application will be one she'll truly cherish.
"I'll always be proud and appreciative of the people I've worked with over the last five months, and regardless of the outcome, I think we've helped continue the process of community improvement for Guthrie Center."
The IEDA's Main Street Iowa Committee will make its selections for the program two hours after the conclusion of presentations this afternoon.  Guthrie Center Revitalization says it will hear of the IEDA's final decision on January 27th.