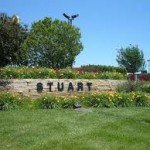 The Wambold Subdivision in Stuart might soon have its first homeowner.
Eric Tiernan, the secretary for Stuart Enterprise for Economic Development, better known as SEED, tells Raccoon Valley Radio that an offer has been made on the first home being built at Stuart's new housing subdivision north of West Central Valley High School.
For Tiernan and the rest of SEED, this is good and exciting news.
"You always worry about the first one selling.  Savannah Homes (of West Des Moines) is building that house and they want to build more.  The key to that was selling the first one so now they're planning on building two more (houses), in fact, they've signed an agreement to take three more lots and build on two right away.  So, that's good, it's what we want."
Tiernan has he expects the first house, being built on Wambold's Lot 21, to be completed within the next 90 days.  Savannah Homes will next build on two lots adjacent to Lot 21 on Northeast 2nd Street.
Tiernan says SEED does not have a goal in terms of when they'd like to see all of Wambold's 32 lots developed, but he is hopeful this first sale spurs and helps its growth.
For more information about the Wambold Subdivision, CLICK HERE.