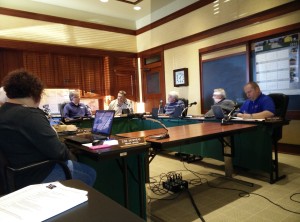 The Perry City Council met in regular session last night.
During the City Administrator's report, Butch Niebuhr mentioned that the new fire truck has been delivered and Chief Chris Hinds was going to make it available for the Council to look at following the meeting.  The City's REAP grant application finished in fifth place in rankings so Niebuhr believes it will be approved but they won't officially know until October 9th.  This is for the proposed soccer complex.  Administrative Assistant Sven Peterson is also looking at additional funding sources from Prairie Meadows and Tysons.
Mayor Jay Pattee then mentioned that there were vacancies on the Tree Board and the Park and Recreation Advisory Board.  Anyone interested in being appointed to either group ca submit a letter of interest to the City Clerk.
The Council then approved a change order for the 2014 runway patching project for an increase of $4,360 due to necessary additional materials.  An emergency runway patching change order was also approved for a decrease of $80 due to a quantity adjustment.
Another change order was approved for the 908 Willis Avenue HVAC improvements.  This is an increase of $9,318 over the original total cost due to additional equipment needed to complete the project.  Niebuhr says this project came in under budget initially, so he feels things will work out okay financially in the end.  The second pay request for that project was then approved as well in the amount of $19,963 to Wolin and Associates Inc.
Next the Council approved a Federal Aviation Administration grant agreement for apron rehabilitation at the airport.  The city has been awarded the grant, which will cover 90 percent of the project costs for a total of $637,830.
A resolution supporting a grant applications for the proposed soccer complex at Pattee Park was then approved.  This will allow the city to seek additional funding through various grant opportunities.  The estimated cost of the project is $679,920, with funds coming from grants and contributions from both city and private entities.
The fiscal year 2014 Iowa Department of Transportation Street Finance Report was then approved, along with a fireworks display by J&M Displays this Friday for the Perry High School Homecoming celebration at Dewey Field.
Yard waste burning dates and procedures were then set, with residents being able to burn yard waste materials from 10am until sundown October 1st through November 23rd. Finally, the citywide trick-or-treat night was set for Thursday, October 30th from 6-8pm.
For more on last night's meeting and other things happening in the City of Perry, tune into today's Let's Talk Dallas County when we speak with City Administrator Butch Niebuhr during the 9am, noon and 5pm hours on AM 1310 KDLS.