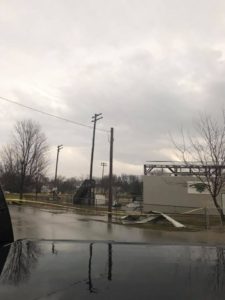 Last Friday night is a night that Jefferson residents, first responders, law enforcement and rescue personnel will not forget.
Greene County Emergency Management Coordinator Dennis Morlan told Raccoon Valley Radio that Friday night's 70-miles-per-hour straight line winds caused about $2 million in damages. He thought most of the damage was done primarily to private businesses including: Finch's Holiday RV with $250,000 to six camper trailers, the northeast corner of Bomgaars, Tronchetti's storage building, the Dagit auction house, Casey's General Store, Genesis Development, three homes nearby the Genesis building, Joe's Body Shop, a Greene County Secondary Roads shed, the Greene County Little League field and utility costs.
Morlan pointed the most interested part of the storm was that it went from northeast to southwest. Another interesting part was that there was some damage to two residential properties on East Adams Street, which was complete separate from the immediate area around McKinley and Elm streets.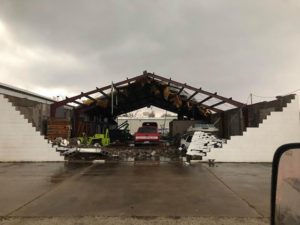 Morlan noted the storm created other areas of concern when over 2,500 people without power. The law enforcement center and Greene County Medical Center each had to be powered by generators. However, when the electricity failed for the city's water system, Morlan said had the power not come back on when it did, the city's entire water supply would have been in jeopardy and the lift stations would have pumped raw sewage into the Raccoon River. However, none of that came to fruition as power was restored in time.
Morlan said utility companies were working around the clock to restore power and cable to all those affected. He added that by late Saturday afternoon, all power was restored and by Sunday evening, less than 50 people were still without cable.
He said there were issues with the general public gawking at the situation that evening and driving over down, live electrical lines. He requests that if those situations happen in the future and the safety of everyone to stay away from entering or getting close to the scene. Luckily, Morlan pointed out that no one was hurt in Friday night's storm. Morlan thanks all of those involved and said he is also impressed that whenever situations spike up like Friday night, everyone-to law enforcement, to first responders, to fire departments and any other officials- come together, no matter if they are on duty or not, to help out.
Going forward today, Morlan is meeting with the Des Moines Emergency Management Department to investigate any potential state funding aide that could help with repairs.
Raccoon Valley Radio will bring you more information as it becomes official.