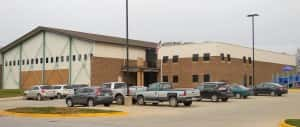 There are a number of programs taking place with the Jefferson Parks and Recreation Department this month.
A program that is currently underway allows youth to explore the world of archery. It is for 10- to 14-year-olds with the classes held on Tuesdays and Thursdays from now through July 19th. Classes are at 1108 West Adams Street and are led by Don Orris and Phil Siglin. The beginners class is from noon to 1:15pm and the advanced class is from 1:15 to 2:30pm. Cost to participate is $25. Orris talks about his favorite part of the program.
"If you give a kid a bow and a set of arrows and you teach them how to shoot, and then you teach them how to break a balloon on a target-I'm not kidding you-you can talk about all this other stuff, but when they break a balloon with a bow and arrow, they get a grin so wide across their face you just can't believe it. It's just so much fun to see."
JPRD Director Vicky Lautner says there are free swimming lessons coming up later this month. Home State Bank is sponsoring the first 50 registrations with classes to be held on Monday through Friday, June 18th through the 22nd from 10 to 10:50am. Farmer's Mutual Insurance is also sponsoring a week of free swimming lessons from June 25th through the 29th, also from 10 to 10:50am. Those classes are also limited to 50 participants. Both sessions are on a first come, first served basis.
Call the Greene County Community Center at 386-3412 to stop by to sign up.