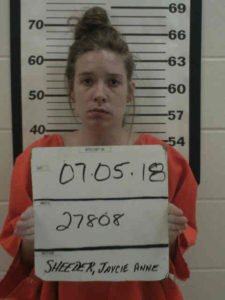 A Coon Rapids woman was recently charged in connection with a Des Moines murder earlier this summer.
According to court documents, 25-year-old Jaycie Sheeder was charged with first degree murder, a Class A Felony by the Jasper County Sheriff's Department. Sources say Sheeder was allegedly involved in the death of 36-year-old Jeremy McDowell of Des Moines. McDowell was found dead in the back of a vehicle operated by Sheeder on June 22nd in Newton.
Sheeder reported to local authorities that McDowell had been assaulted and needed medical attention. By the time she met up with law enforcement and medical personnel, McDowell had died in the vehicle's back seat. McDowell had allegedly been assaulted by 50-year-old Jeffrey Lee Stendrup of Clive over some stolen property.
Sheeder was also charged with an aggravated misdemeanor for accessory to felony. She is currently being held at the Jasper County Jail in Newton on an undisclosed bond amount. Her next scheduled hearing is Monday.
Raccoon Valley Radio will bring you more information as it becomes official.