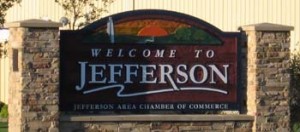 Jefferson residents still have time to submit their name for consideration to fill a vacant city council seat.
The seat was vacated on the five-member council following the resignation from Larry Teeples. City Administrator Mike Palmer explains how people can submit their information for consideration. "If they would like to be considered for the vacancy they just need to submit a letter or an email to the mayor (Craig Berry) or it can be put in at City Hall by the 23rd (of April) is when they are going to act on it. They (the Council) have elected to go with just the appointment process. It would be an appointment to the next election which would be in November, so it's a relatively short amount of time. But if you're interested, please submit a letter or an email of interest."
The seat is open to anyone residing within city limits of Jefferson. Palmer notes that when the election takes place in November, whoever is elected at that time to fill the vacancy, will fill the rest of the term of the seat, which is until 2021. However, if residents don't like who the Council appoints, they can petition for a special election to be held prior to the general election in November.
The Council is anticipated to act on the appointment during their next regular meeting on April 23rd.