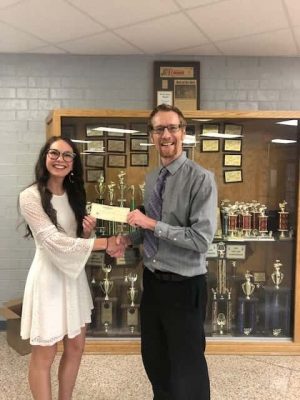 Wednesday evening, one of the two Raccoon Valley Radio Business and Broadcasting Scholarships was handed out at Woodward-Granger High School, with the recipient being Josie Noland.
Noland, who plans on attending Grinnell College in the fall and majoring in Communications and Neuroscience, received a $250 check to help pay for her continued studies. She has been active throughout high school in a variety of activities — ranging from athletics to the performing arts to student government — carries an over 4.0 grade point average, and is ranked first in her class. She says she's most proud of her work with Dallas County 4-H, as it has taught her valuable leadership skills and life lessons. One particular experience Noland points to with 4-H was at the 2018 State Fair, when a positive interaction with a deaf woman inspired her chosen majors in college. She says her ultimate goal is to develop and implement brain injury prevention, education, and treatment methods.
The scholarships are given out each year to two graduating seniors at schools throughout the listening area who are going on to a post-secondary school, and are majoring in either a business or broadcasting-related field. They are paid for by area businesses through the Senior Salutes promotion. Raccoon Valley Radio General Manager John McGee says when looking over the applications each year, he pays special attention to how well-rounded students are in their activities, and tries to determine who will best represent their communities, their school, and the station.